Vacation Rental Automatic Scheduled Emails
Bill Guests for Payments. Remind Cleaners. Notify Key-Swap Offices. Send Reminders to Yourself. Bookerville's Automatic Scheduled Emails Can Do It All For You!
Running a VR business means corresponding with people. Sometimes that's over the phone, but increasingly it's with email. Bookerville can send emails automatically on a schedule for you. Using our renowned customizable
Email Templates
, you can send any email to guests, yourself, or any other email address. These can be configured to be sent automatically any number of days before (or after) the check-in date, check-out date, payment due dates, or the date the booking was made. Moreover, Bookerville provides a nice default set of these that are ready to be customized and then turned on with the click of a button, whenever you are ready to try them.
Bookerville's Vacation Rental Automatic Emails are perfect for:
| | |
| --- | --- |
| | Payment Reminders: Send bills to guests when payments are due, and they will click a link to go pay your account directly. Past Due notices can also be set up. |
| | Arrival Instructions: Send directions, final arrival instructions to the guests a few days before check-in. |
| | Remind Cleaning Crews: Send emails to cleaners a day or two before check out for a timely reminder. Works great! |
| | Security Deposit Refunds: Send a reminder email to yourself (or the VR manager) to refund security deposits. |
| | Thank You Notes, Request Review: Send a thank you email a week or so after the check-out date. This is a great way to foster repeat guests. |
| | More! Set up your own for just about anything you want. Need help? Just ask us! |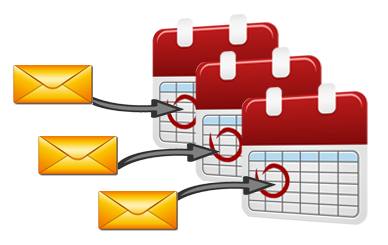 The Solution For Vacation Rental Automatic Emails
Each Automatic Scheduled Email can also be restricted based on other criteria: Paid-In-Full (or not), Contract Received (or not), Refundable Security Deposit Received (or not), or even depending on which listing site the booking came from. Bookerville's Automatic Scheduled Emails keep you from forgetting important correspondence, and ensure a consistent, smooth, professional operation for each booking - from start to finish.